Externalizer4j IntelliJ plugin
Externalizer4j offerts first class integration with JetBrain's excellent IntelliJ IDEA has been a priority from the start. This page describes Externalizer4J's IntelliJ plugin which make the optimization of the serialization an integral part of the compilation. With the help of Jetbrain's support team Externalizer4J optmization is fully intregration into the IDEA compilation. The Externalizer4J plugin works for both the free Community Edition as well as the Ultimate Edition.
Externalizer4H supports other build systems for more information please take a look at:
Contents
JetBrains plugin repository
The Externalizer4J plugin can downloaded from the JetBrains repository or directly from within IntelliJ IDEA. Go to Settings -> Plugins -> Browse Repositories -> Tool Integration -> Externalizer4J plugin
Installed plugin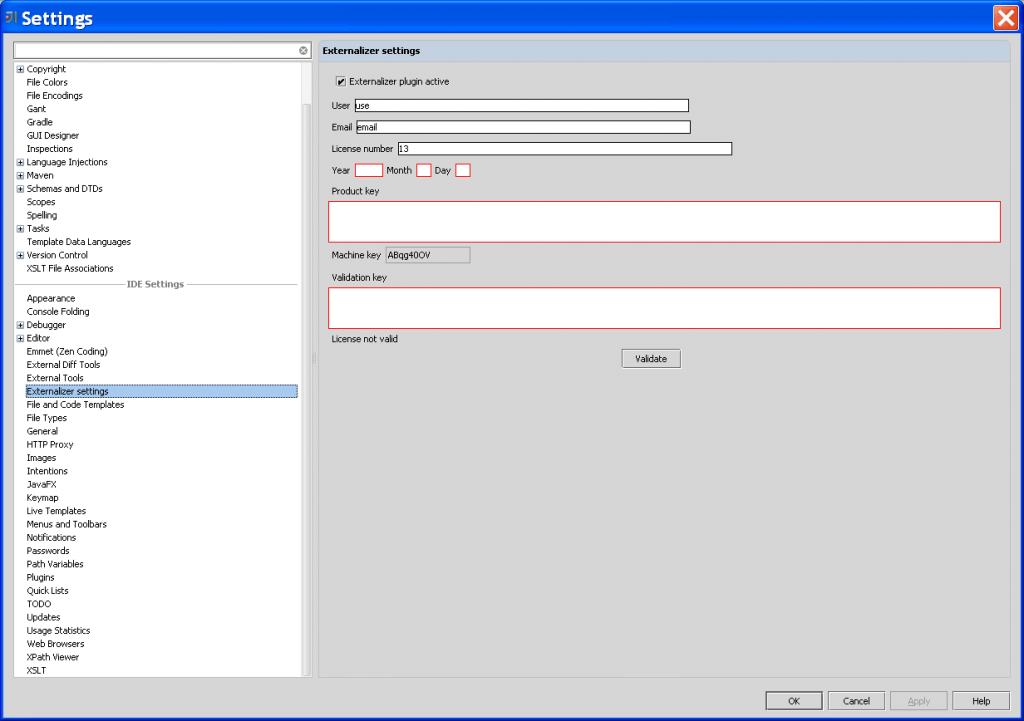 The externalizer4j plugin is listed in the Settings of your IntelliJ after the installation.
Activate the plugin
We decided not to activate the plugin by default! So even if the plugin is listed, as shown above, it will not optimize your classes just yet. To activate the plugin you simply:
Go to Settings
Depending on the version of IntelliJ

version 14.x: Other Settings -> Externalizer4j settings
version <14.x: Externalizer4j settings

Check the "Externalizer plugin active" box
Close the dialog
IMPORTANT: no additional information is needed to activate the plugin. The other fields can be left empty if you have no license!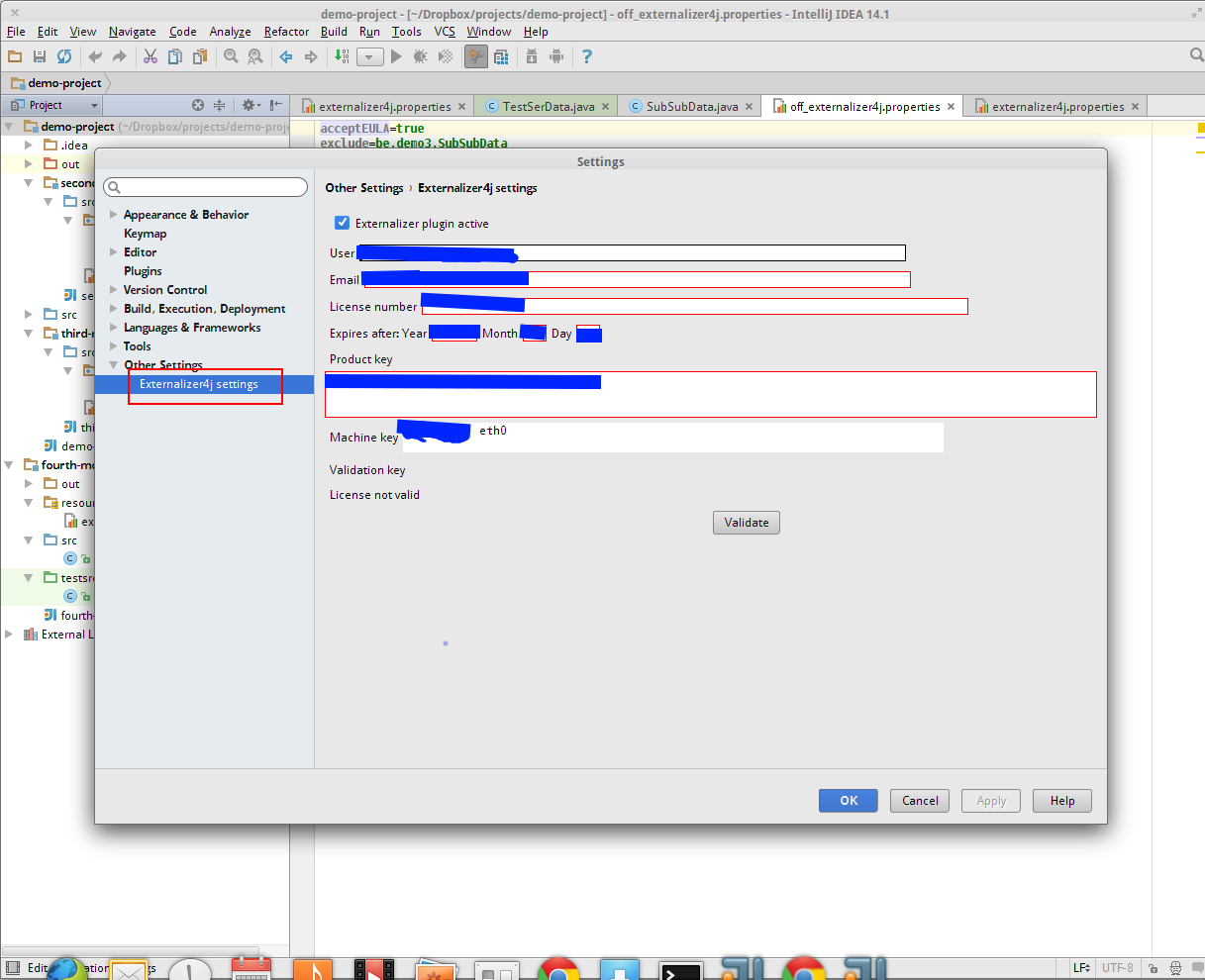 No license is need to enable the Externalizer4j Intellij plugin to automatically optimize the class serialization at compile time.
Create a externalizer4j.properties file
Create a file called externalizer4j.properties file in the resource directory of your project. Put at least the line containing "acceptEULA=true" in the property file as described in the configuration reference guide.
acceptEULA=true

The plugin in action
The Externalizer4j IntelliJ plugin is what JetBrains calls a compiler plugin. This means that Externalizer4J's optimization is executed automatically whenever your classes get compiled. Don't forget to create the externalizer4j.properties as described above.
The output of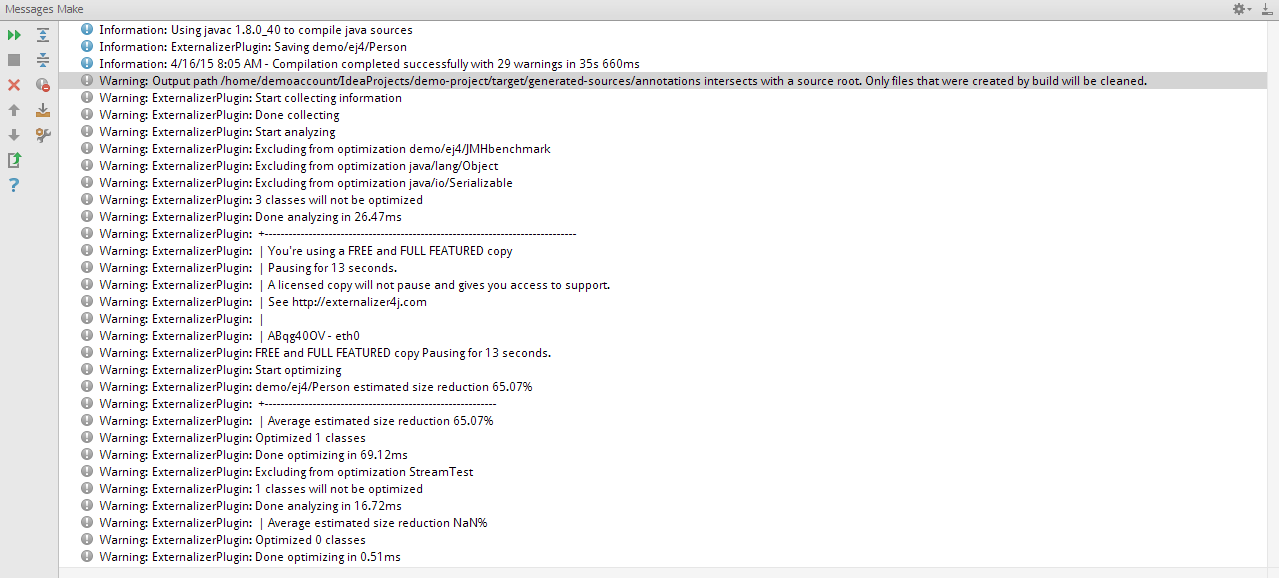 The output produced by Externalizer4j's IntelliJ plugin during compilation.